Join us for a delicious opening reception filled with finger foods that will tantalize your taste buds and satisfy you before the grand opening ceremony. Indulge in a delightful spread of delectable bites, mingle with fellow attendees, and get ready to kick off an unforgettable event!
Prepare for an exhilarating opening ceremony at the 2023 National Deaf People of Color Conference! We'll pay tribute to the Indigenous land, groove to the iconic Black National Anthem, and embrace the spirit of 'Black Boy Joy' through a heartfelt interview. Prepare to be mesmerized by the amazing Sunshine 2.0 dance troupe and captivated by the enchanting ASL poetry of a talented Deaf Korean American artist. Join us as we honor our amazing sponsors and embark on a joyous celebration filled with inspiration and excitement!
Step into our vibrant vendor's booth, where the possibilities are endless! Explore a world of unique goods, captivating services, and deaf-friendly advertisements designed to foster connections, build networks, and empower our thriving deaf ecosystem.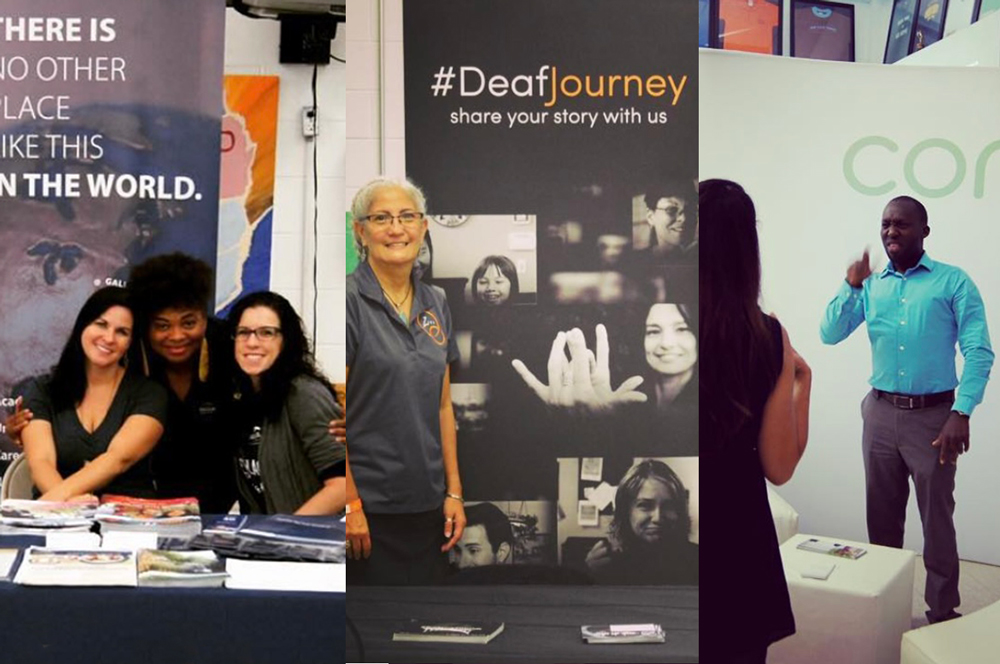 Are you seeking someone to talk to? Someone who can help you navigate through your emotions? Do you need a safe space to process your experiences?
Brown Bag Roundtable Discussion

Create Your Dream Business
Come chat with Rosa Lee for a Roundtable Discussion where we will delve into the world of funding opportunities, accessing resources, and idea exchange. Together, we will explore new horizons and uncover the keys to entrepreneurial success.

The National Deaf People of Color Conference will host an irresistible BBQ feast at the Ely Patio, so indulge in a mouthwatering BBQ feast. Fuel up after a day of captivating presentations and workshops while immersing yourself in the vibrant art exhibitions surrounding you. A delicious combination that nourishes both body and soul!
River of Truth

Art Exhibition and Art Sale
The first exhibition will feature works by BIPOC Deaf, DeafBlind, and Hard of Hearing artists. The experiences of Deaf People of Color-oppression, success, and passion -are highlighted in the art exhibit.
4-8 p.m. ET
Festival Reception
The artists will be present and share their artworks.
7 PM to 10 PM
Art Sale at NDPC Gala
(Field House)
If you want to show your artworks, please register.
Experience the raw power of ISM, a remarkable performance that Michelle Banks has curated. Through heartfelt monologues, BIPOC Deaf individuals share their personal battles with audism, ableism, racism, and other forms of discrimination. By interweaving their stories into the fabric of the "Black Lives Matter" movement and the pandemic challenges, this play illuminates the systemic injustices experienced by these communities, drawing inspiration from real-life events. Join VOCA on a transformative journey where the actors become the resounding "voice" for social change, fostering dialogue and seeking solutions for a brighter future.
Join us for a transformative panel discussion as Black and brown Deaf and Hard of Hearing performers courageously share their healing journey through storytelling. With the guidance of a licensed mental health Latina Deaf counselor, they will engage the audience in an open and heartfelt conversation, inviting questions and fostering connection. Discover the strength and resilience that come from knowing we are not alone as they share their stories and uplift the community with their powerful voices.
There are two registration options for graduation: "General Admission (in person)" and "Livestream (remote)". When you share with conference participants, please encourage those who will watch the livestream from the JSAC Multipurpose Room (MPR) to register for the "Livestream (Remote)" ticket.
Kendall Class of 1952 Graduation Ceremony
In a historic moment of triumph, attendees of the National Deaf People of Color Conference will witness a powerful milestone. Marginalized Black Deaf graduates of the class of 1952, the Kendall Black Deaf students, will finally receive their long-overdue high school diplomas. As they proudly cross the stage in cap and gown, let us come together to celebrate their resilience and recognize their extraordinary achievements. Don't miss the historic Kendall Class of 1952 event, streaming live for the world to witness!
HARMONY IN CULTURAL HERITAGE

Gala Night & Art, Dessert, and Special Sales
A closing ceremony will take place at the gala to wrap up the NDPC conference. Get ready to dress to impress and join us at the gala for a night of fun! Indulge in delicious food and drinks, hit the dance floor, and prepare to be amazed as talented dancers showcase a mix of vibrant cultural performances. It's a celebration you won't want to miss!
Unleash creativity through storytelling, painting, and art & craft. Engage in fun games, outdoor activities, and enjoy movies with popcorn in our exceptional child care program.
Ages 9 to 17

Youth Program
Ignite your passion for adventure and creativity in our youth program. Leadership workshops, art & craft sessions, rock climbing, field trips, and swimming activities await you. Discover, grow, and have endless fun with us.